Megan Hyland graduated from LSAD in 2012 with a degree in Visual Communication. After a brief return home, a job search took her to Dublin. She began her career with Catalysto and has since worked in a number of studios in Dublin including, Dunne Stores, Brando, In the Company of Huskies. and now Teneo. Megan's career path and role has changed over the years. While working as a designer Megan has also focused her time on a number of self initiated projects that have been well received and her work has featured on Design Taxi, Flavorwire and Quipsologies. Her work has been exhibited nationally and internationally and she has recently undertaken a residency in Facebook's Analog Studios in Dublin. Megan was awarded an IDI Design Award in 2018 in the personal Illustration category for her work titled, 'Monty Python Anniversary Show – Quest for the Holy Grail'.
Could you tell us what happened after you graduated?
After leaving LSAD I spent a couple of weeks in my parents dining room making 1000+ piece jigsaws. I remember it vividly because I realize that I didn't really know what I was going to do after college had ended so I submitted an advert on Creative Ireland advertising myself with the following opener: "1-2 years minimum experience required – Help me solve the dilemma of finding work in the design world fresh out of college when I need experience to get a job and need a job to get experience". I then listed my college credentials and ended with "and I make a damn fine cup of tea".
By October I was working as a junior designer in Dublin design studio Catalysto. For two and a half years I worked my way up to the title of designer, working on a variety of projects including the design of annual reports, brand design and a touch of illustration. I also became the studio's product photographer as I seemed to have a knack for it. During this time I began a side project that I dubbed 'Meagan's Movie Alphabet', as a way to stretch my creative muscles and write my own brief. The finished project landed me on the front page of Design Taxi, Flavorwire and Quipsologies. It was one of the main reasons why I got my next job as in-house designer in Dunnes Stores Head Office.
Two years previous to getting hired by Dunnes, I helped coach a friend from LSAD for an internship interview with them. She went on to be their product photographer and designer before moving to London at which point she introduced me to the team as a potential candidate. Having that connection got me in the door but outside interests other than my client based work were what helped me secure the new position. While there I worked with the marketing team on press ads and campaign visuals and this opened up the advertising side of design for me. I realised that I could exist in this area but I also felt that there was a limit to how much I could grow.
ICAD Upstarts – A Change in Direction
After two years with Dunnes Stores, I applied for the ICAD Upstarts programme and spent 6 intense weeks working on art direction briefs for six high profile agencies, presenting to their Creative Directors each week. At the beginning of the six weeks all the candidates were contacted about internships at Brando, I declined. I knew that my previous experience in design meant that I didn't have to begin again at the bottom even when moving industries. At the end of Upstarts, Brando advertised for an Art Director on Tinder, at this point I had a book of work to present. I applied for the role in the form of a personal ad "I am on the lookout for a like minded person whose interests include photoshop, piña coladas and getting caught in the rain". Two of the other Upstarts took the internships, I took the job.
Art direction was exciting to me, I enjoyed the challenging briefs, learning to work on a set, directing other people and working with bigger budgets. At this time I also began writing radio copy (why not!). While working in advertising I didn't loose my desire for illustration or design. I kept personal projects going in the background so as to keep something for myself. In 2016, just as I was itching for a change in scenery Brando merged with In the Company of Huskies. I remained in the agency for year and a half, working on a team that created the entire look and feel for the launch of a phone network in the Bahamas and picking up awards for my work on the GAA and eFlow outdoor campaigns.
This is where they story stumbles, as with any take over of a smaller agency by a bigger one there isn't enough room for everything to come with it. I took voluntary redundancy in 2017 and spent some time on the dole as I could not find another role similar to what I had before. Agencies were looking for creatives who could animate and produce video content but I had always stayed within the realm of print. Time spent outside of the conventional working environment cannot be wasted; I traveled, I did a screen printing course, took part in Dublin Canvas, did some work for worthy causes and kept developing my personal work. This kept my mind occupied and helped me to stay creative. In November 2017 I almost took a role I knew I did not want (I was panicking that I would never get another job). I trusted my gut and three months later the same Creative Director offered me a role more suited to what I wanted to do. In February 2018 I started as Creative Consultant in Teneo PSG.
New Beginnings
Teneo is different to any of the other places I've worked in so far. I work within the digital team, designing for digital and storyboarding for video but am finding more and more I am designing for print for clients in the activations and pr side of things. The thing that I thought was holding me back has now become my strength. Teneo understand the value of having people with different backgrounds and have afforded me time off to pursue my interests in illustration and to take on the role of designer in residence at Facebook Analog Studios. While there I got a print studio to myself for 6 weeks to see what I could produce. (Video by Arcade Film)
Self Initiated Projects
While working in Catalysto you began to explore self-initiated work with Megan's Movie Alphabet. This jump-started some interesting collaborations for you, can you tell us more?
Megan's Movie Alphabet
MMA (not to be confused with the sport) began after watching Jessica Hische speak at Offset about her 'Daily Drop Cap' blog and Olly Moss speak about his 'Do Something Cool Everyday' project. I decided to take those ideas and make it about something I love; cinema and typography and Meagan's Movie Alphabet was born.
I set out a goal for myself, not one a day because I had a full time job and enjoy my time off but once a week seemed more achievable. I would create posters for films in alphabetical order using only the first letter of the film title and elements from the film to create that letter. I posted the artworks publicly on Tumblr so that I couldn't back out or be late. During the project I was contacted by creative blogs who wished to publish and write about my work when the alphabet was complete. I was shocked by how many people liked the project and how it got picked up by so many sites. One of my posters was voted the 2nd best alternate film poster of 2013 by the Shortlist. The project really thought me a lot about managing time and when to let a piece of work go, you can't keep tweaking forever if you have a deadline!
Gallery 1988
As a result of MMA I started exhibiting with Gallery 1988 , a gallery based in LA that specializes in pop culture art. I was an admirer of their work for years before I got up the nerve to contact them. I sent the gallery some of my work and as luck would have it, I was selected to take part in an all-female show they were working on.
I love the group shows for 1988 because it never seems like work. They collaborate with film studios and networks to make exhibits based on popular movies and tv shows and as a result I have been able to work with Sony, 20th Century Fox, Focus Features and The Cartoon Network on projects for Ghostbusters, Bob's Burgers and Rick and Morty.
Screen Printing
Although I only studied it in first year, over the years I have become more and more of a printmaker. Working in design full time doesn't leave a lot of time to do physical printing so I frequently collaborate with a printer in Greece who goes by the name TIND and Damn Fine Print in Dublin. I love to collaborate on the process because sometimes the best ideas come right at the end. TIND and I collaborated on a beautiful print for Disney's Alice in Wonderland that really only came to life after he suggested some gorgeous shades of blue.
Dublin Canvas
Dublin Canvas is an amazing initiative and I encourage everyone with a hand that can hold a brush to get involved. I had planned on applying a year before I did but missed the deadline so I made sure to be ready the next time. I geared my design towards an area I know and love (The Liberties) and tried to capture the little details that the locals would get. Painting the box was great craic, with tourists asking for directions and old lads asking if I worked for the council and if I could paint them too. It's lovely to have such a public platform for art, I get to walk past it every day and it's something that my parents can understand instead of me trying to explain what a Facebook Canvas is to them!
Dublin chapter of Ladies, Wine & Design
Ladies, Wine and Design started by Jessica Walsh of Sagmeister & Walsh in New York is an initiative that seeks to help address the gender imbalance in the design world where there are many women in junior roles but not a lot at Creative Director level. We aim to change this through mentorship circles, portfolio reviews, talks, and creative meet-ups. In less than two years of launching, we've spread to chapters in over 200 cities all over the world and I run the Dublin chapter with my friend Aileen. As a result of LWD we have helped to connect women with job opportunities, collaborators or just new friends to have a drink with. We are now in our third year and will be hosting in Facebook in March 2019.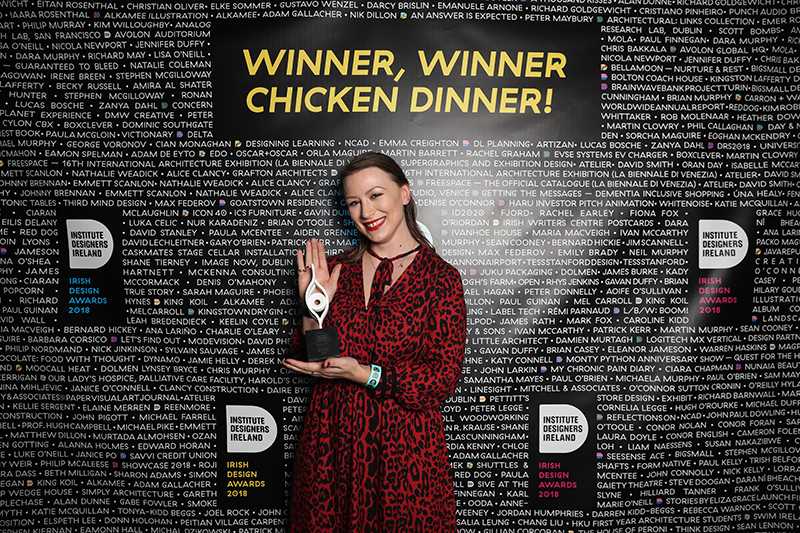 design process
What is your design process?
In terms of design process I find it hasn't changed all that much, it has just refined itself. Working in advertising alongside planners has helped me understand how to approach a project with better understanding of the target audience and the end user and how to include that tone of voice in the thought process from the very beginning. This saves a lot of time that in the past would have been spent making ideas that would never make it past the first round of critique.
inspiration
Where do you find inspiration?
In terms of research I try to avoid looking at work in the same field as the first source of inspiration, it limits your ideas to what has already been done before. I'll look to film, music, architecture to get inspiration, get outside and away from the screen. Take a course unrelated to what you do, just to do it.
advice for students
What advice would you give students who are beginning their studies?
Advice for students, go to bed at a reasonable hour, it's not a badge of honour to have been up all night working on something to then not be able to function the next day in the studio. Learn to switch off and use your time working effectively. Do not have your first draft too polished, keep it as rough and simple as possible so the client only sees the idea and doesn't focus on details that shouldn't be set in stone yet. Do not compare yourself to your classmates, it will only make you feel inferior. Everyone has different strengths and some people might completely change career after graduation. If you're working on something that is going to be printed never start on screen. Computers are to design what microwaves are to cooking, they are a tool you are the designer. Be ballsy, talk to people who intimidate you and squeeze everything you can out of them. When I was in 4th year I went to Offset with a dicta-phone and talked to every designer of note about my thesis. Learn to use tools from other disciplines, they might come in handy.
And for students about to graduate?
For graduates, no one is going to come knocking until you tell them where you are. Advertise yourself well, keep your website updated, comment on things on LinkedIn. Email creative people you admire and ask for advice on your portfolio even if they are not hiring. Be sound, when studios are hiring they are as much interviewing your personality as your portfolio, no one wants to spend 8 hours a day with a 22 year old who thinks they're above it all. If you are interning treat it as a proper job, 'not my problem' should not be in your vocabulary. Offer to help on everything, show that you are hungry and willing. Do not clock out at 5 every day, people notice. If you have something that needs twenty more minutes its worth doing it then while you have momentum instead of trying to find it again the next morning. Similarly, learn to ask for help – it will be given. No one expects you to know everything right away at the beginning of your career. Most importantly if you're given a brief you're not particularly excited about, tough. Every brief deserves equal respect. You have to realize you are making work for someone else and it's your job to impress them. A Creative Director will spot unenthusiastic work every time and clock you for laziness.
My biggest piece of advice would be don't let your day job determine who you are. Have outside interests and personal projects. It's good to see what you can do when no one is watching. I would have quit design long ago if I didn't have my self initiated projects to work on and it has helped me to find new opportunities. A drawing blog lead to getting into galleries which led to to making licensed prints for Rick & Morty, Bob's Burgers, and Focus Features. This in turn led to making prints for Disney. I've been included in three different books on pop culture art and helped co-author a book on hand-lettering too. All because of work I did for the fun of it. And if you don't like the industry change it. Three years ago I helped set up the Dublin chapter of Ladies, Wine & Design which aims to foster mentoring and community between female creatives. Through the meet-ups we've helped people break into the industry, meet collaborators and find jobs. You only get out of this job what you put in, so give it your all!
for more information
share this profile