Bridget Butler graduated from LSAD in 2011 and immediately undertook an internship at Gruppë fur Gestaltung in Germany, where she progressed to the position of junior designer before moving back to Ireland. On her return she spent some time in Dublin studios Form and Zinc before spending four great years at CI Studio (formerly Creative Inc) where she found the design process to be very much aligned to the fundamentals acquired at LSAD. Recently she has moved on from CI Studio to take up a new position at Zero-G. Bridget combines her design work with her passion for enterprise through Marsh Sisters, a business she operates with her sister.
Could you tell us about your first job in Germany?
Towards the end of my final year in 2011 an email was sent out about an intern position at a studio in Bremen, Germany. At the time it was an extremely busy period in college but luckily I had my portfolio ready to go, I applied, had an interview over skype and secured the internship.
It became very clear, quickly that the process in college mirrored the real world, and working in Gruppë fur Gestaltung (GfG) with other designers on live projects helped to further develop my design skills. I learned a lot at GfG and I found that they took a great deal of care in helping Junior Designers develop. From the outset I was included in design meetings and was made part of the team. The agency had photographic, architectural, IT and production departments and I gained experience in each area during projects. I worked on a wide variety of design projects and gained experience in illustration, branding and interior exhibition graphics. At the same time I also worked directly with one of the six creative directors and I found this to be more like a mentorship. He was an accomplished creative director who gave very insightful instruction and encouraging guidance, something I believe to be very beneficial to a designer coming straight out of college.
How was the German experience?
The move itself was quite daunting but adapting to German life was easy. The studio was looking for an English speaking designer which helped but I did attempt to learn German and use it when I could. It was a great to live in another country and to experience a different culture. I think it's given me more appreciation for Ireland, and I'm not sure I would have gained that perspective had I not worked abroad.
Looking back what was the design scene like compared to Dublin?
It's difficult for me to compare because my German wasn't very good so a lot of design events were a little inaccessible, but in a similar way to Dublin, Bremen had organised talks, shows and events that were centred around culture and design. A few years have passed since I was there so I have no doubt that it has changed a lot.
Could you tell us about Marsh Sisters?
A year ago I started working on a side project with my sister, aptly named Marsh Sisters. We've always enjoyed baking and working together so we combined her marshmallows skills with my design skills and began selling hand crafted marshmallows at our local market in Wexford. It's always great to work on side projects as it provides a break from the studio but also helps inform studio work at the same time. It's a very symbiotic relationship. In under a year we came second in the Trinity Business Accelerator program Lunchbox, received an investment offer and were featured in 30 under 30 of the Sunday Independent Business section.
What is your design process?
My design process is very similar to the process developed and nurtured in college. It was easy to adapt to studio life as the process is so alike, research plays such an important role in the beginning, followed by conception, critique through discussion, development, further discussion and final tweaks for presentation. The process is never finite and grows and changes with the needs of the client. In my experience design briefs are rarely ever the same so the process has to adapt to the brief and the client's requirements.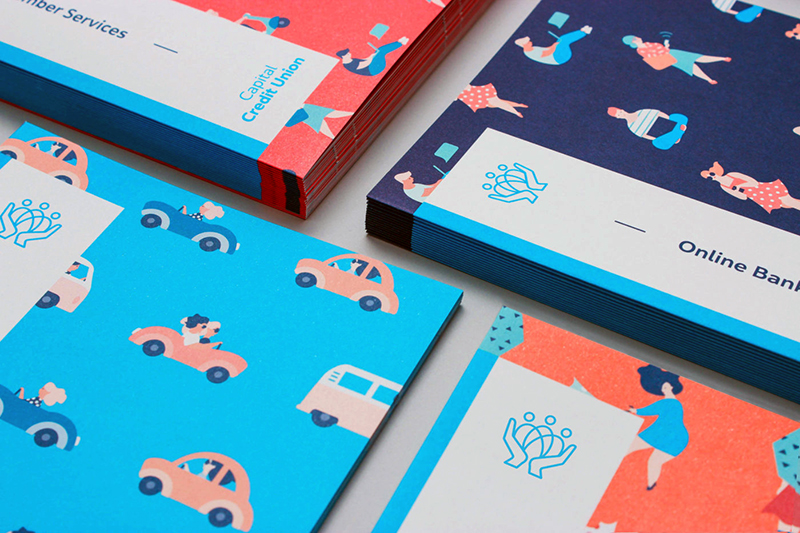 Where do you find inspiration?
Moving between projects in a busy studio gives you space and distraction that often leads to unexpected ideas and inspiration. I enjoy fitness for clearing my mind and having a very different process from design which in turn benefits studio work. I think most often you find inspiration when you're not looking for it! Switching up what your working on or taking a break and forcing a different train of thought is often most useful.
advice for students
What advice would you give students who are beginning their studies?
For students starting out I would say just have fun with design, and use it as a means to explore more of what you're interested in. Design is applicable to almost anything and using that to your advantage will keep you interested, making the overall process more enjoyable and result in more interesting outcomes.
And for students about to graduate?
Get used to sticking your neck out in the beginning, you have to go out and find opportunities. Just go for it, anything and everything. The more emails, phone calls, meetings and chats you have the more likely you are to create opportunities and options for yourself. In doing so you will put yourself in a strong position to choose what's right for you.
for more information
Web_ www.bridgetbutler.com
Web_ www.marshsisters.com
share this profile